Core Business
Circulation coins
Circulation coins
A Striking Difference
Our clients include central banks and monetary authorities worldwide. Whether you require circulation coins, demonetisation of old coinage or any other minting service, we have a proven track record of delivering world-class products while offering efficient, reliable and environmentally-sustainable service. In short: we make "a striking difference"!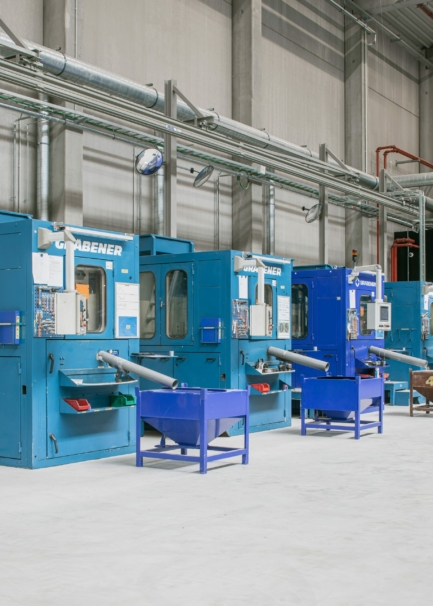 Circulation coins
Your partner throughout the entire coin life-cycle
We have access to all the tools and expertise needed to produce durable, affordable, high-quality circulation coins. We utilise our knowledge and facilities to guide you through the entire coin life-cycle, from the design process and creation of a new coin to the demonetisation of old coinage. Our service includes advice on improving the durability and circulation lifespan of coins, as well as recommendations on coin security to minimise the risk of counterfeiting. We can also assist you in developing and redesigning your existing packaging configurations.
Once we have designed and minted your circulating coins, we help to optimise the efficiency of your deliveries and minimise the percentage of your capital that is tied up in inventories. You can take advantage of temporary storage for your coins in our secure storage facility. As the final step in the coin life-cycle, we can assist you to demonetise old coinage and can successfully manage alloy recovery programmes for recycling purposes.
Last but not least, we can offer you expert advice on any and all coin-related matters, such as the coin-banknote boundary, risk analyses regarding coin specifications which overlap with those of neighbouring countries, or ways to improve existing coin specifications in order to maximise seigniorage.
Commemorative Issues and Custom Products
The Royal Dutch Mint is a trusted partner for central banks and corporate clients worldwide. As specialists in the area of commemorative coins, medals and other collector's items, we will gladly help you develop a unique product. In addition to concept development, modelling, production and packaging, we can also offer you comprehensive service that includes promotion and distribution.
Commemorative Issues and Custom Products
Concept Development, Modelling and Design
Every product starts with an idea. Our highly-skilled graphic designers and 3-D modellers will work with you to develop a concept and then translate it into a unique design that meets your needs and expectations. From idea to sketch to 3-D model: you can rely on us to guide you through the entire process.
Commemorative Issues and Custom Products
Production and Packaging
Next, our specialised production department transforms the final design into a high-quality physical product. The mintage may vary from only a few coins to a few thousand. We deploy a high degree of craftsmanship and the latest innovative techniques in order to make your product the best it can be. Additional possibilities include vitreous enamel, MultiView and hologram features.
Commemorative Issues and Custom Products
Promotion and Distribution
Besides facilities for design and production, we can also offer expertise and a network to support or manage your distribution. We can actively distribute your products via our e-commerce and wholesale channels. Finally, we offer the option of a full-service proposition, in which we assume responsibility for online marketing, campaign development and customer service.
Royal Decorations and Medals
Royal Decorations and Medals
For many decades, the Royal Dutch Mint has shown dedication and craftsmanship in developing and producing enamelled decorations in all types of metals: precious metals like gold or silver, but also bronze and other metals, according to the client's desires. We hold commissions from numerous organisations, both national and international, including the Kanselarij der Nederlandse Orden (Royal Honours and Decorations), various orders of knighthoods, the police and ministries. Our specialists will be happy to assist you in developing a unique decoration or medal. We employ craftsmen who are highly skilled in several specialist techniques, such as the application of coloured glass (enamel). The Royal Dutch Mint is also the best place to turn when you want to design a mounting bar to display your decorations.